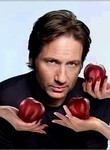 I just read the description for the new David Duchovney show:
Bachelor Hank Moody's (David Duchovny) got it made: he's a sexy best-selling author who's irresistible to the ladies. But as a part-time dad juggling his wild L.A. lifestyle with grown-up responsibilities, this say-anything writer's at a loss for words. This smart Showtime comedy also stars Natascha McElhone (as Hank's ex-girlfriend), Madeleine Martin (as Becca, his 13-year-old daughter), Madeline Zima and Evan Handler.
Am I just a sucker for good ad copy? Or is it that the name of the show, Californication, reminds me of how tight David Duchovny's pants were in the 1993 film Kalifornia (um, and the Red Hot Chili Peppers, of course)? Because I really want to see this show, and since it's going to be on after Weeds, it almost makes me want to pay the outrageous sum to get Showtime.
I do have some questions, though:
1) How much do you wanna bet that Evan Handler (who you may know as Charlotte's bald husband from Sex in the City) plays his "wild" best friend?
2) How much you wanna bet that his interpretation of this role comes nowhere close to Johnny V's brillance in "Scott Baio is 45 and Single"? (to be fair, Johnny V is not acting. You can't make that kind of assholery up).
3) Do you think Showtime tapped DD to do this show because they loved working with him such much on The Red Shoe Diaries?
4) Will Minnie Driver be making a guest appearance? Her and DD had so much chemistry in that monkey heart movie.
5) If I subscribe to Showtime, will it just be a slippery slope, whereupon I will soon find myself with HBO, Encore, and a DVR?